Our Beer

Brewed into cask, bottle and box our beers are available in Pubs throughout Hampshire and the South East as well as our own Flower Pots Inn and via our Online & Click & Collect services.

Explore our beers

We pride ourselves on our selection of award-winning beer which you can enjoy in our historic Inn in Cheriton, Hampshire or buy online. For many years now we have brewed our regulars, Goodens Gold, Pots Bitter and Perridge Pale and then roughly every month we brew one of our popular seasonal beers which span the spectrum of traditional beer.
Our Regulars

Pots Bitter

BITTER
ALC 3.8% VOL
Our eponymous Flower "Pots Bitter" is a blend of some of Hampshire's finest malted barley with a selection of Challenger, Goldings and Northdown hops.  Toffee amber in colour, with a balanced bitterness from the English hops paired with a subtle caramel sweetness from the malts, the award-winning Pots Bitter is a traditional British beer and is named after the Flower Pots farm where beer was first brewed in the 1830s.
Goodens Gold

GOLDEN ALE
ALC 4.8% VOL
Our Goodens Gold is a unique blend of some of Hampshire's finest low colour and lightly caramelised malted barley with a selection of British and North American hops.  With notes of grassy pine and citrus with a lingering aftertaste, this classic "Golden Ale" has a good level of bitterness and flavour to balance the gravity.  The multi-award winning Goodens Gold is named after Godwins who farmed the Flower Pots land in the early 19th Century and who famously produced the first Flower Pot pint of ale.
Perridge Pale

PALE ALE
ALC 3.6% VOL
Named after the adjoining field to our Inn and Brewery, our Perridge Pale is a blend of some of Hampshire's finest low colour malted barley with a gentle wheat malt, paired with six hop varieties from Britain and North America. Light straw in colour, with a balmy aroma and subtle twist of citrus and fruit, the award winning Perridge Pale is crisp and refreshing yet intriguing with a perfect clean finish.
Buster's Best

BEST BITTER
ALC 4.2% VOL
Buster's Best was awarded the Silver medal at The Winchester Beer Festival in March 2020.  Some of Hampshire's finest malted barley and a touch of wheat is combined with Fuggles and First Gold hops to produce a traditional well rounded English beer.  Full bodied, nutty and biscuit, with a sweet and smooth bitterness.  Bronze in colour with a creamy head, Buster's is an easy drinking Best Bitter and is named in great fondness after "Buster" the black and white fox terrier who resided behind the bar at our Flower Pots Inn.  It also happens to be our Brewer's favourite!
Flower Pots IPA


IPA
ALC 6.0% VOL
Brewed in limited batches, our traditional 6% IPA, is full of Pilgrim, Progress and East Kent Goldings hops producing an earthy, medium bodied ale with a smooth bitterness. The English hops are blended with some of Hampshire's finest malted barley and with hints of citrus, spice and pine, our popular winter regular has a deep yet warming golden hue.
Cheriton Porter

CLASSIC PORTER
ALC 4.2% VOL
Brewed over many years as a seasonal beer, we have now added our award-winning Cheriton Porter to our regular bottled beer list as it is so popular with our customers. A complex grain bill of dark malts and traditional British hops create an easy drinking classic Porter.  With a creamy coffee aroma and roasted chocolate maltiness, a hint of sweetness shines through to provide a dry finish.  All of our beers are brewed in the Hampshire village of Cheriton, so why not name a beer after it?



Want to try our beers?
Why not try a beer from our brewery within the comfort of your own home?
Our Seasonal Beers

Spring Loaded

SESSION PALE ALE
ALC 4.0% VOL
A sumptuous pale ale, bursting with flavour, our Easter favourite is back after missing out in last year's Lock Down.  Incredibly zesty, Spring Loaded is a gentle and lightly golden beer yet highly hopped ale, full of Cascade, Nelson Sauvin and Simcoe hops.  Extremely well balanced, verdant flavours of grassy cones, citrus and mango shine through.  Thoughts of daffodils and anything yellow! It's Springtime!
Extra Special Bitter

SPECIAL BITTER
ALC 5.2% VOL
Deep amber in colour with a rich caramel flavour, our new special is Extra Special in every sense!  Brewed with Maris Otter and Cara Crystal Wheat, this EKG hopped bitter is balanced with Boadicea hops for the floral and citrus aroma, with a bittersweet and hoppy orange marmalade aftertaste.  We normally give each beer a name, but on this occasion, it just made sense to let it describe itself.  It deserves to!
Stottidge Stout

STOUT
ALC 5.2% VOL
It has been a while since we last brewed our Stout, albeit we have upped the abv a touch to 5.2%.  Named after the lovely Stottidge field next door, we have blended six dark malts with some torrified wheat and a simple addition of East Kent Goldings hops at stages in the brew.  What a result!  Dark and intense with a gentle bitterness and hint of vanilla.  Keeping some back to condition even more!  Cannot wait!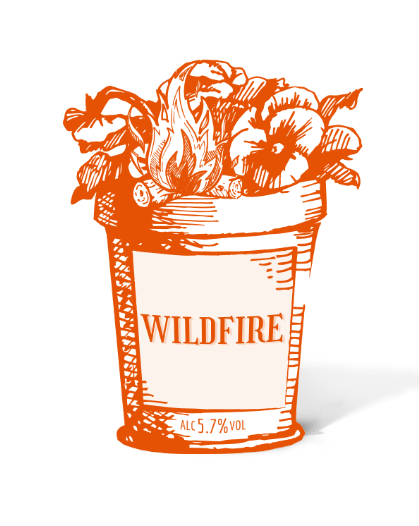 Wildfire

GOLDEN ALE
ALC 5.7% VOL
A recent addition to our specials range, our Wildfire is an American Pale Ale.  A blend of Amarillo, Citra and Simcoe hops, gives this premium strength knockout of an ale a real burst of flavour.  Full of west coast juicy citrusy aroma, what better to complement the Lager and Carared malt base.  Deep golden in colour with a short bittering and resinous floral aftertaste, we not surprisingly usually brew Wildfire towards the end of summer, but we needed something to cheer us up, so we thought we would share it with you too!  Truly tropical!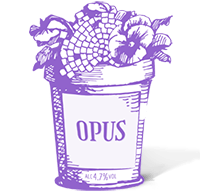 Opus

PALE ALE
ALC 4.7% VOL
"A real piece of work!" Brewed over many years as a late spring/early summer ale, Opus is an American style pale ale, amber in colour and made with a bundle of US Mosaic hops. Great body, very fruity and with moderate bitterness.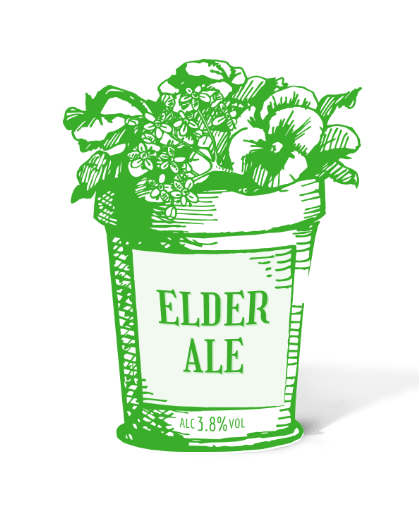 Elder Ale

GOLDEN ALE
ALC 3.8% VOL
Brewed with freshly picked elderflowers from the hedges around the Brewery and the fields of Cheriton, our Elder Ale is a seasonal summer favourite.  Picked early in the morning by Sian (on horseback), the elderflowers are added to the brew straightaway along with the First Gold, Celeia and Mistral hops.  The low colour malted barley produces a lightly coloured Ale. Refreshing and fragrant, we only brew Elder when the elderflowers are at their best.
Stormchaser

AMERICAN PALE ALE
ALC 4.5% VOL
One of our autumn specials, Stormchaser is evocative of the brooding weather at this time of year. A blend of Celeia and Galena hops with a sprinkling of Azacca and First Gold, this American Pale Ale is brewed with Lager and Vienna malt with a touch of wheat to provide a long dry citrus finish.  A ray of sunshine amidst the chasing of clouds.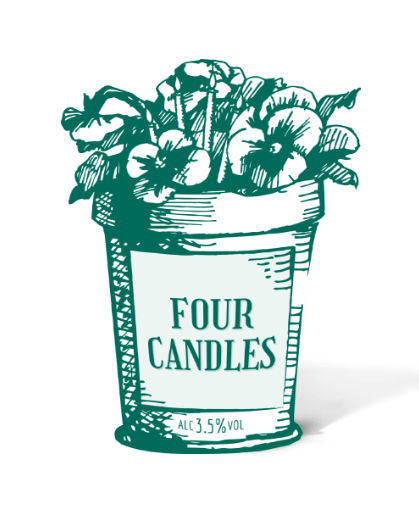 Four Candles

SESSION PALE ALE
ALC 3.5% VOL
A festive friend, Four Candles is a seasonal "special" packed full of Goldings and Amarillo hops with English malted barley combined with lightly caramelised amber and red malts.  Refreshing burnished golden ale with a smack of orange peel.  Four Candles is a true session hoppy ale and contrary to popular rumour, celebrates the Four Candles of Advent as opposed to the famous Two Ronnies sketch of the same name.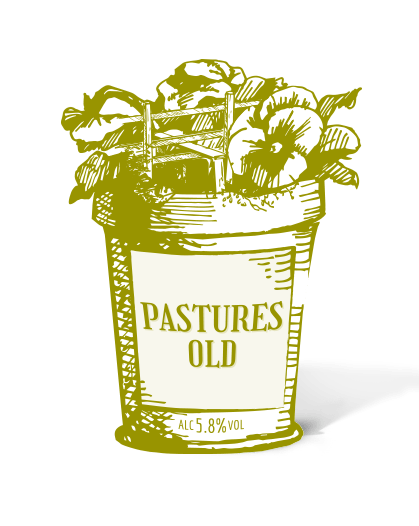 Pastures Old

Winter Ale
ALC 5.8% VOL
Brewed for the Christmas season, our Pastures Old is an Old Ale in the truest sense. Rich, dark and luxurious, this full bodied winter ale is earthy and spiced, with hints of plum, date and big intense fruits. Just like a fruit cake, but better! Brewed with Brewers Gold hops and a complex grain of deep coloured malts. Named after The Pastures in our historic village of Cheriton, Hampshire.
Hopton Pale

SESSION PALE ALE
ALC 4.3% VOL
With a big stone fruit aroma and light golden colour, our spring favourite Hopton Pale is a modern style punchy pale ale, full of fruity North American hops with a soft bitter yet spicy finish.  Described by the brewing boys as "Highly Sessionable!"  Hopton is brewed every year to commemorate the famous Battle of Cheriton of 29th March 1644, where Sir William Waller's Parliamentarian army helped change the course of the English Civil War by forcing Lord Hopton's Royalist troops to retreat.
Buy our beers